Escort Passport 9500ci Review
The Escort Passport 9500ci Radar Laser Detector is among the absolute forefront of radar detector technological advancements. It is the top-shelf option. This laser detector is not cheap, it prices at around $1000. However, it includes every feature you could possibly need in a radar detector, and even a few you never imagined(that you will be glad to have).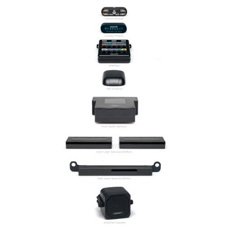 360 degree protection and "pop" radar support are both standard features on the Escort Passport 9500ci Radar Laser Detector. This is an absolute must for a modern device, as many of the current radar guns use this technology. This escort masterpiece is a custom install job; it can be wired directly to your ignition just like your radio or other options. It is designed to be installed in a stealthy manner, making it difficult to detect for the uninitiated. You will also have the benefit of speed and red-light camera locations pre-loaded into the unit. The G.P.S. feature on the Escort Passport 9500ci Radar Laser Detector helps you avoid false alarms. There is no imaginable feature for a radar detector missing in this device
For the consumer who wants an absolute top-of-the-line custom installed radar detector, this is the direction in which you will want to go. This is truly the absolute best; every feature that a consumer of radar detectors might want is all found in this unit. The Escort Passport 9500ci Radar Laser Detector is not for the budget shopper, though. This is more for the big spender who wants only the best.
Verdict
This radar detector is a completly concealed radar and laser detection system that can detect as long rage with ease. The only down side of this product is the installation can be a pain in the butt if you don't know what you're doing. However, you can easily Youtube a video for tips and tricks on how to install it. Thanks for checking our and reading out Escort Passport 9500ci Review and hope you found this review helpful.